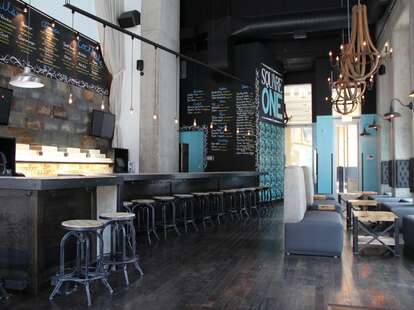 No one likes to hear that it's time to go back to square one, unless you're referring to a bar called Square One, in which case, they're going to be psyched and try and kiss you and stuff. So start Frenching everyone at the new, so-named corner lounge with towering 30ft ceilings, a concrete bar lit with Edison bulbs, and a cream-colored couch & fireplace-adorned "living room".
Drinking options run the gamut from 20 bottled crafts (Three Floyds, Metropolitan), to a definitely-not-Diner's Club card-activated wine-on-tap system that lets you sample from their 40-plus global varietals via tasting, half-glass, or full-glass pours. If you tell everyone that "cocktails are your thing", you overshare & are weird, but will enjoy a Manhattan made with cripplingly high rent payments dark rum, a bourbon-pineapple-lime concoction (topped off w/ ginger beer, cinnamon & cardamom) called the East of Kentucky, and an Oddjob, made w/ mezcal, lime, and lemongrass
There's no kitchen per se, but that isn't stopping them from feeding you with the likes of house-pickled veggies, duck 'n pork rillettes from Publican Quality Meats, and locally sourced cheeses like the goat-sheep-cow-combining tres leches -- though if that's too intimidating, maybe just stick to Kraft Singles, or another square one.