The three-level sports bar is celebrating its sterling new cell phone service (complements of freshly installed boosters!) with an appropriately themed party featuring $3 shots like the Butt Dial and the Five Bars; a raffle of tix to U.S. Cellular Field; and tunes ranging from Ludacris' "Area Codes" to Zeppelin's "Communication Breakdown", which never used to happen when everyone just used a Page-r.
Recommended Video
HearseCon Is the Biggest Hearse Event of the Year
Previous Venue
Next Venue
Venue Description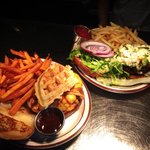 1. The Fifty/50
2047 W Division St, Chicago, IL 60622
The 50's a tri-level sports temple serving gluttonous fare like in-house smoked meats (ribs, pulled pork, wings), mac 'n' cheese toppable with everything from chicken to chili, and the "Double-Secret Probation"-esque "Triple Secret:" a tri-meat fatburger with a classified recipe.