Late-night meat and whiskey in the West Loop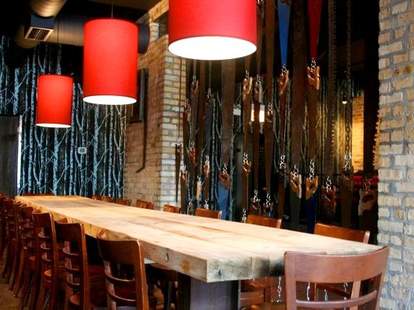 Chi's late-night food options are notoriously lacking in diversity -- one can only eat so much pizza, and your only hope for fusion is simultaneously eating burritos from all three La Pasaditas. Superrito!!! Now you can do better, thanks to Porkchop.
From the guy who once presided over former late-night legend Iggy's, Porkchop's keeping its kitchen open 'til 130a (and soon rolling out a "bartender's brunch") to sling its comfort food menu in a country-industrial tavern with a dividing wall made from rusted-out saws, taxidermy peering out from eerie silhouetted forest wallpaper, and light fixtures crafted from old mason jars and hay balers, the spread of which eventually made having the name Baler intolerable. Sustenance highlights include bacon and leek risotto topped with a poached egg, cheeseburger mac & cheese studded w/ sirloin and covered with cheddar & tomato, and (of course) a pork chop that's been grilled over a combo of old whiskey barrels and cherrywood, so dude's apparently way too excited about the NHL playoffs. For snackier fare there're brined & smoked Gunthorp Farm chicken wings, kielbasa "lollipops" served sticking out of a perforated cutting board, and fried bread & butter pickles with Green Goddess dressing, which with the help of "un-" is the most popular search on RedPlanetTube.
Booze-wise the focus is on 40 varieties of whiskey, which are always served neat with an ice bucket and water so you can fix them to your liking, so you know what it's going to turn to at 2a: Superrito!!!