If the US divorce rate has taught us anything, it's that nobody works more efficiently towards a common goal than husbands and wives, which is why it should come as no surprise that the (blissfully) wedded chef/sommelier duo formerly of Carnivale are now buckling your knees with Vera. An intimate, Spanish-tinged wine bar, Vera's design reflects a "distinctly home-like personality", because what home doesn't have espresso stained floors, a custom walnut bar, butcher block-style tables, high ceilings strung with Edison-bulb-filled spherical glass fixtures, and fern-green upholstery. With select vintages on tap and a special emphasis on Sherry, seasonally rotating vinos -- picked to pair with Galician food's assertive flavors -- are divided into four sections: Old School Spain, New School Spain, The Neighbors (other Euro offerings), and the Americas, and flights feature themes such as "Old World vs. New World", which thankfully doesn't end with you getting smallpox. The shared plates are too next-level to call themselves "tapas", and include bread served with infused butters (duck crackling, sea urchin…), saffron broth'd black cod w/ butifarra & clams, and a paella studded w/ rabbit and duck chorizo, not to mention plates of ham from La Quercia, Iberico, and Serrano, which'll have you striking out when your date throws you a curveball...of being vegetarian. They're even putting dairy front and center with a five-seat cheese bar, where you'll watch a custom flight be created for you via a rotating list of five Spanish/five Midwestern selections, though eat too many and no number of wives will be able to help you move efficiently towards anything.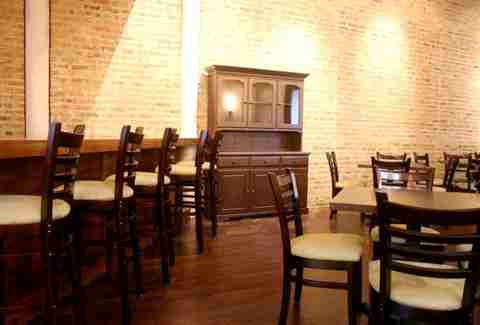 Previous Venue
Next Venue
Venue Description
1. Vera
1023 W Lake St, Chicago, IL 60607 (West Loop)
This Spanish-leaning wine bar offers seasonally rotating vinos alongside shareable plates like bacon-wrapped dates, ceviche, paella, and charcuterie.