Family-style drinking and dining in Pilsen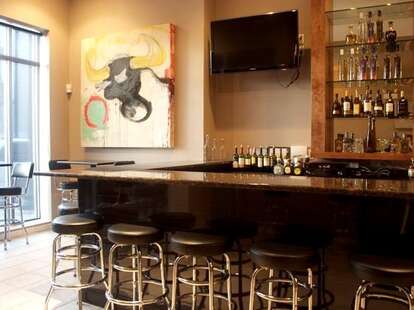 Popular wisdom holds "liquor before beer and you're in the clear", but nobody's ever said "liquor before al pastor and you'll want some more"...until now, thanks to Del Toro. From the family behind Pilsen staple F&R Liquors, DT's a laid-back adjacent tequila bar & grubbery with a mahogany hue, a U-shaped granite bar, and local abstract paintings, all punctuated by the sounds of Latin jazz and bossa nova, which is also how Brazilians describe their favorite PBS programming.
They're leveraging their expertise to bring in 50-plus tequilas, from blancos to oak-aged Anejos like Los 3 Garcias, plus a strong selection of small-batch Latin rums including Guatemala's Zacapa, aged at 2300m above sea level in a facility known as The House Above The Clouds, thankfully not the Castle on a Cloud, whose booze just makes your hangovers more Miserables.
Vino'll also have a strong Latin flavor, drawing from Portugal, South America, and even Mexico (in the form of Baja's L.A. Cetto, produced by expat Italian vintners), while brews include Guatemala's Famosa, Spain's Estrella, and American craft offerings including 5 Rabbit, a new Chi operation whose Oaxacan-style 5 Vulture dark ale is brewed with vultures ancho chiles and more vultures unrefined Mexican brown sugar.
The tightly crafted menu will expand in the coming months, but everything from the fresh ceviche to the al pastor tacos is made according to the family matriarch's recipe, as there's no greater wisdom than "eat something from mom before getting bombed".