Because the Great Depression spawned some great depressants, go check out The Barrelhouse Flat, a two-floored temple to classic cocktailing named for the '30s blues song by Mary Johnson, housed in a brick- and wood paneling-heavy 1892 building now sporting a vintage lounge-y upstairs equipped with a pool table and fireplace, so, just like FDR, you may have difficulty walking after a fireside chat. The drink program, directed by a Violet Hour alum, is broken down into sections for Stirred, Shaken/Swizzled, Bubbles, and Egg, with housemade sodas & bitters going into 60-plus classic libations like the Ford Cocktail (London dry gin, dry vermouth, Benedictine, orange bitters), the rum/ lime/ grapefruit/ Maraschino'd Papa Doble, and the tequila/ Creme de Cassis /ginger soda /lime El Diablo, which oddly doesn't enhance your performance at the NES classic Dusty Diamond's All-Star Softball. They're also doing old-school punches, filling custom-cart-delivered bowls with The Golden Fleece (gin, green tea, lemon, pineapple syrup, Drambuie), and a Jamaican rum/ peach brandy/ Cognac concoction called the Fish House, thankfully not the Phish House, which is just Bathtub Gin. Snacks-wise they'll be doing seasonal small plates like a riff on a Waldorf salad, and a Pig's Face Poutine studded w/ figs and shallots, and adding to the atmosphere will be a piano player tickling the ivories at an upright piano, and, when he's on break, the tunes'll come from a rebuilt vintage jukebox stocked with old 45s of blues and ragtime, depressingly considered in the '30s to be formal wear.
Recommended Video
This Whisky Company's Interview Consists of Traveling the World & Drinking Booze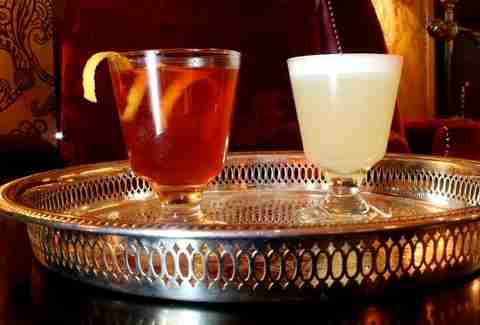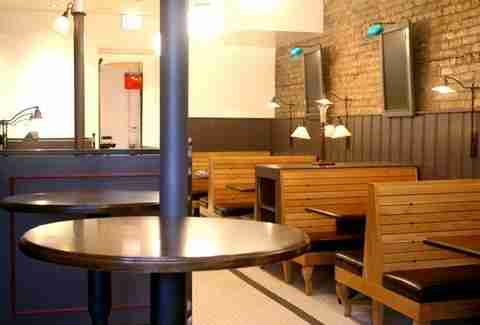 Previous Venue
Next Venue
Venue Description
1. Barrelhouse Flat
2624 N Lincoln Ave, Chicago, IL 60614
This two-floor throwback cocktail bar in Lincoln Park churns out classic tipples like Sazeracs, Old Fashioneds and Manhattans alongside lesser-known drinks like the Jimmie Roosevelt, a blend of cognac, green chartreuse and Champagne. Choose from 60+ varieties of shaken or stirred drinks.