A hidden spot worth finding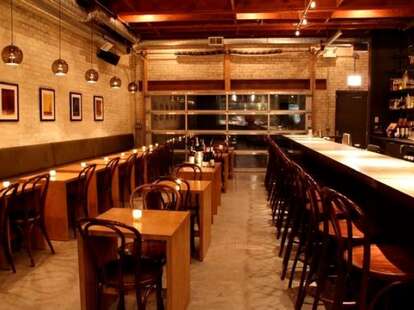 Sometimes the best meals are found where you least expect them, and other times you actually dig into your couch cushions looking for Cheetos. But since man cannot live off sofa scraps alone, there's Ada: a DMK team effort located off Elston Ave in a forgotten, largely industrial area, where your date is sure to get Nine Inch Nailed (OK, maybe more like Four Inch Nailed, but whatever man, sex joke!).
The Space: Enter into a snug candlelit lounge and continue past a narrow "wine library" stocked with hard-to-find vintages and hit a right at the record player kicking out hopefully-not-Divinyls vinyl patron donations. What you'll come upon's a 45-seat dining room with an open kitchen flanked by a rugged concrete bar, a garage door opening to a back patio, and banquettes made from old Army blankets.
The Eats: The Cali-bred chef's worked under Thomas Keller & Tom Colicchio, so respect her poached-egg-topped duck confit pasta, brown butter 'n balsamic dry-aged grass-fed sirloin, and Southern fried quail w/ bacon gravy, which can arrive after platters of small-production cheese & salumi, but before brioche donuts w/ port wine caramel, because those'll leave you too fortified.
The Drinks: Coming from a Drawing Room vet, concoctions include the Tangled Up In Blue (Pig's Nose scotch, yellow chartreuse, orange bitters), and the Miller's gin/Seedling cider/Burlesque Bitters/lemon All This Useless Beauty, which applies to exceedingly handsome men with less-than-Reznor nails.