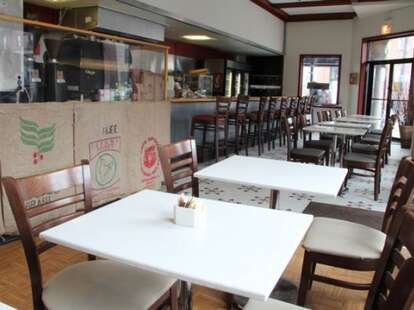 Outgrowing your house leaves you with one of two options: move into a bigger place, or act like yo momma, and sit around it. Because they aren't so fat they can do the latter, the folks behind recently shuttered Treat moved into the old Pancho's space and opened Township: a cozy restobar bookended by a dive-y stage room in the back that'll host nightly shows, and a coffee-sack-covered beanery up front pouring locally roasted Dark Matter, a subject you don't want to get Dusty Baker on when it's hot out.
The kitchen's open 'til 2a and'll be kicking out temporarily streamlined edibles (handmade pastas and the like to come) with an Indian accent, from fried calamari w/ sambal aioli, potato-packed samosas dipped into cilantro mint & tamarind chutneys, and a hand-packed half-pound burger infused with Indian seasoning, which Matt LaPorta could have used more of judging by his career .711 OPS, ammariight?! There's also a beermosa-soaked Sunday brunch for those who want chickpea-battered pakora pancakes w/ wilted spinach and poached eggs, masala French toast slathered with honey-chevre mousse, and walnut-pesto-infused "Green Eggs and Ham", so delicious it'll put a Wocket in your Pocket.
Beverage-wise, the 60-plus brew list is largely populated with local crafts (Three Floyds Black Sun, Finch's Cut Throat), while specialty 'tails mix things up with concoctions like the mezcal, grapefruit, serrano, and hibiscus-basil syrup Rochambeau -- hey, just because moving into a new place wasn't a pain doesn't mean you don't want to give someone else a kick in the nuts.