Big burgers and brews in Lakeview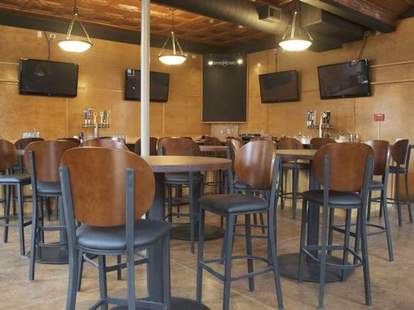 Many people have a unique appreciation for the local history of their hometown, while others...are from Iowa. For a new haunt from a dude who knows his 'hood, George Street Pub.
Opening today in the century-old building that was most recently home to The Union, GSP's the project of a longtime industry vet born-and-raised in nearby Lincoln Park, who restored the original tin ceiling and spruced up the facade with green glass bricks found on the exterior, while adding fresh touches like a custom-built birch bar and black & white photos of industrial bridges, shining examples of the city's True Grit. Pub grub starters run from a concoction of baked shrimp, garlic butter, and cheese (served with toasted French bread) called Shrimp Cargo, to housemade chips w/ blue cheese fondue, to bowls of steamed mussels swimming in garlic, butter, and white wine, which'll also happen if they run out of fondue. Sandwiches can also be had, including fried egg-topped corned beef hash on a pretzel roll; Dogfish Head-battered walleye w/ tartar sauce; and the GSP Cheddar Burger, whose half-pound patty's stuffed with rendered bacon/ chorizo/ caramelized onions and covered in smoked cheddar spread, also a football formation exclusive to Wisconsin.
Brew-wise they're serving a craft-heavy selection of 40-plus bottles and 14 drafts, including Bosteels Triple Karm, Metropolitan Flywheel, and Country Ale from Two Brothers, a beer that should be from Iowa, as it perfectly reflects their state's diversity.