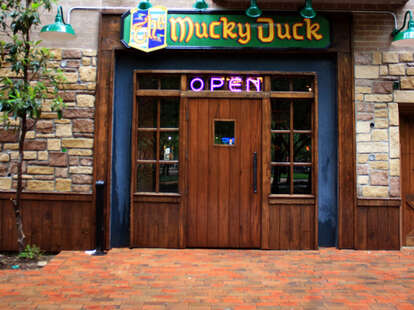 Rehashing a classic can be a welcome thing, like when they remade Invasion of the Body Snatchers for the '70s, then hastily remade the remake before aliens could replace Gabrielle Anwar with a 70yr-old woman. Bringing back a classic watering hole: The Mucky Duck.
From the coat of arms over the door to the brick walls to the hanging "MUCKYDUCK" Euro license plate, the Ringo's Pub brothers have overhauled Zen Addison Circle into a fresh incarnation of what they consider a "landmark...if you grew up in the North Dallas burbs", adding that they would've brought back Prestonwood Mall and Tilt too, but "didn't have the resources", as who can produce that many teens w/ quarters? Brews run from cheap Banquet Beers, to foreign & domestic crafts (La Fin du Monde, Delirium Tremens, Fireman's #4...), to a trio of Guinness half & halfs: the Shiner "Black and Texan", the Ace Pear "Black Velvet", and the Blue Moon "Lunar Eclipse", which you can either buy for the pale skinny dude, or the shirtless glamor-caveman...these are the decisions epics are made of. Stuff yourself with gumbo-drowned fries, breaded Zen Fish Tacos (w/ white cheese, chipotle lime drizzle), Firecracker Chicken, and Voodoo Blackened White Fish, but not Southwest Voodoo White Fish, as that involves shoogah whooga, heads turned into lima beans, possum nipples, and other stupid crap only Insane Clowns would eat.
They also offer blue plate specials, Wed trivia night (1/2 off fish 'n chips; $3 3 Olives vodka), and weekday happy hours with $3 wells and drafts -- leading you to go crazy with female bodies, and wake up with a Burn Notice.