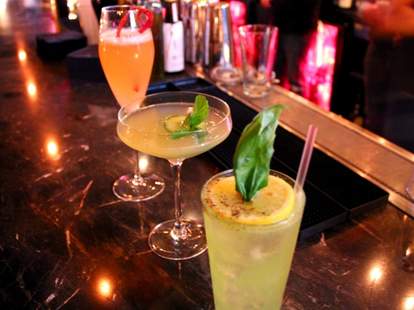 For the American male, there's a set path to maturation: lose your virginity because you love wine coolers, become a man because you love Scotch. Helping Dallasites love it locally: the brothers Donohoe, whose spot The Dram is now open on Henderson.
The Scottish siblings are aiming for an "after dinner cocktail lounge" with velour couches (including one beastly blue 30-footer), Edison bulbs dangling languidly over a marble-topped bar, and a floor taken from Jesse Helms' campaign office a North Carolina tobacco factory. Hard-to-find hooch includes Del Maguey (a mezcal aged in Stag's Leap barrels), Dallas' only bottle of Black Maple Hill bourbon, and of course, Scotch: between 75 and 90 labels, headlined by Glenlivet '77, Laphroaig '79, Caol Ila '89, and six of the 36 Big D-bound bottles of Shackleton's Expedition -- re-engineered from a bottle lost in an Antarctic shipwreck nearly 100yrs ago, by a man who forgot that when your ship is sinking, you grab the bloody booze. As for cocktails, barman Dub Davis (Marquis, Bolsa) and his crew are showing up 3-4hrs early every day to make syrups so fresh they need two Aunt Vivs (vanilla-orange-maple, pineapple-chili-simple...), and he's also developing "one of the more extensive bitters programs in Dallas", with tiny bottles of the stuff for sale.
Every spirit will find its way into 3-5 recipes that'll rotate every 3-5 months, from modern concoctions to classics like the Eastender, English Gimlet, and Phil Collins, whose "Against All Odds" perfectly summed up the chances of you finally unloading your Exotic Berries.