A great place to not go on a three mile run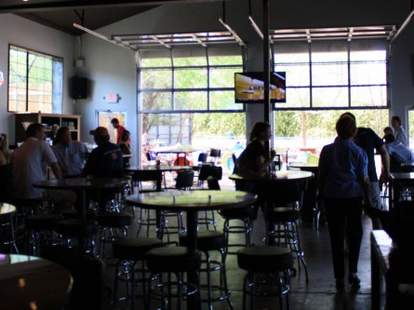 Gardening is a pastime that can bring deep satisfaction to those who themselves could be mere minutes away from being planted. Assuming you're still more into suds than sunflowers, go beer gardening instead, at the Katy Trail Ice House, soft open now, grand opening April 4th
A collab between Barley House & Mi Cocina investors and Banditos' owner/operators, the Ice House's admirably simple mission is to provide a place to "walk along the path and have a beer" (suck it, joggers). The sprawling, dog-friendly outdoors sports dozens of picnic tables and a couple of flatscreens, while the wood & corrugated steel inside -- accessed through three garage bays -- welcomes idlers with a majestic 30ft bar, six more TVs, oak-barrel tables, and Texas-ness including antlers, a neon Willie portrait, and signage for the Dallas Blackhawks -- the old minor league team, not the Chicago franchise the Stars have owned for a decade. What you'll be over-consuming:
Beers: 50 taps, concentrating on Texans like Rahr Bros., Franconia, Real Ale, Shiner, Pearl, 512, Live Oak, Independence, Thirsty Planet, St. Arnolds, Pearl, and Jester King, with out-of-staters repped by Breckenridge, Fat Tire, Guinness, Santa Fe, Sierra Nevada, Big Sky, and Boulevard -- obviously not of Broken Dreams, because hey, there's beer
Booze: A literal TX-liquor uprising with Waco's Baby Blue Whisky, San Leon's Ralean Handmade Texas Rum, Texas Republic Blanco Tequila, and a slew of vodkas including Titos, Dripping Springs, Enchanted, Savvy, Famous, Hudson Ferus, De Los, and Deep Eddy Sweet Tea, not to be confused with Deep Eddy, Sweet Tee, a tender coming of age drama starring that guy who played at Tennessee after Peyton Manning
While the focus is imbibing, Katy is offering simple eats like burgers, chicken sandwiches, tacos, chili, and nachos -- a defiantly unhealthy choice proclaiming that, when it comes to pushing up daisies, it's nacho time.