Descend a stairway to heaven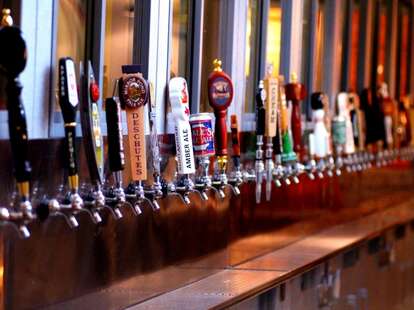 Homecoming's arguably about more than creating the greatest papier-mâché Hello Kitty float of all time, which is why tomorrow, Oak Cliff restaurateur Matt Spillers (Eno's, Oddfellows) is soft-opening Union Bear in his old Uptown stomping grounds. The former Social House basement features a huge L-shaped bar split by the staircase, and rooms including a subway station/diner hybrid, a wood-fenced "backyard" complete with shingled rooftop, and a sauna-like private room where you'll struggle to keep your eyes at chest level as Viggo Mortensen naked-fights Russian dudes. What they're serving:
'Zas: The wood-burning domed oven will crank out numbers like the Black Truffle Salami & Mushroom, and the honeycomb salami, thyme oil, TX honey, and black pepper Honey Pig, which you should wash down with Steve Atwater.
Sammies: Esmeralda's baked goods sandwich everything from a flatbread with maple-cured pork belly, Bosque bleu cheese, asparagus, TX honey & black pepper, to the tarragon & house tartar Texas Shrimp Po' Boy, though compensating for shrimpiness actually made Ross Perot pretty rich.
Libations: The brandy/teq/Del Maguey Vida/sherry/agave "Victory Dance" heads a trio of Michael Martensen 'tails, while 40 craft taps count locals (Real Ale WT3F?!, DEBC Festivus, Leprechaun Cider), domestics (Denver's Del Norte Orale, North Hampton's Ska Decadent, Bklyn's The Companion), and Euros like Bockor Cuvee Des Jacobin Rouge, Le Trappe Isid'or, and Palm Speciale -- hopefully not how you ended homecoming.