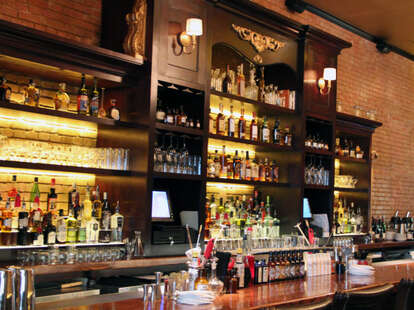 The words "chapter" and "eleven" typically mean bad news (American Airlines' bankruptcy, Roy Williams starting a new career chapter...on your team), but now Lucky Campbell's turned them into something so, so good: The Chesterfield, a 44-seat downtowner that sets the stage for pre-Prohibition boozing with an indoor French sidewalk cafe replica, brick from the Great Chicago Fire, crystal empire chandeliers, and an old-school wooden bar with Manchester wingback stools. Oh, and as for that Chapter 11 thing: drinks are laid out in an 11-chapter book "modeled after the first American cocktail manuals", with just a smidgeon of the tipples including:
Traditionals: Classics like Hemingway Daiquiris are supported by updates like "Oswald's Corridor" (Maker's, Punte, cherry heering, sugar, absinthe) and exotic oldsters like the "East India Cocktail" (Deau Cognac, maraschino stirrings, pineapple syrup, Boker's bitters) and the rhum, yellow chartreuse, Falernum, citrus, and Peychaud's "Thai Fighter", which'll only make you feel like you're spinning into space.
Originals: Toss back a ginned-up "Le Fleur Fatale" (Lillet Blanc, creme de violette pearls, St. Germain, Champagne & grapefruit bitters, over a frozen flower cube); or a rye, Amaro nonino, Aztec chocolate bitters, and vaporized cherry smoke (really, the haze is fruit!) "Up In Smoke: A Cherry-Smoldered Manhattan" -- even better than a movie where Cheech & Chong convince Woody Allen that "relaxing" will make him less of a virgin.
Cuisine comes courtesy of Michael Ehlert -- who studied under Daniel "Three Michelins" Boulud at New York's DBGB -- with lunches like the beer-brined-turkey Bonnie Parker sandwich; small plates including coffee/poblano short ribs and torchon of foie gras with Turkish figs; and mains such as farmhouse chicken roulade filled with 'shrooms, herbs, crispy skin pomme puree, and sherry jus. After all that, no matter what happens with AA, your ass will be grounded.