If your interest in Jewish culture runs deeper than watching Mila Kunis and Natalie Portman get familiar, hit TSP to slurp down matzoh ball soup, or devour milk-braised chicken liver pate w/ orange-cumin marmalade, a Hebrew National dog, or a family take on the Reuben called "Nonnie's Doozies". Wash things down with a Coney Island Lager or a number from He'Brew, or go for a Charoset (applejack, vermouth, brown sugar syrup, bitters), or the yellow chartreuse/gin/herbal bitters/ginger beer/celery Seder Cup, hopefully served in a Pimp Cup so you can say "Ma-shizel Tov!"
Recommended Video
Stay Classy This Winter With a Spiced Pear Tom Collins
Previous Venue
Next Venue
Venue Description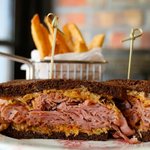 1. The Standard Pour
2900 McKinney Ave, Dallas, TX 75204
This place is anything but standard, serving an outstanding variety of liquors, cocktails, wines, and beers, as well as delightful food options like their thyme and garlic chicken, lamb ravioli, and lobster nachos.