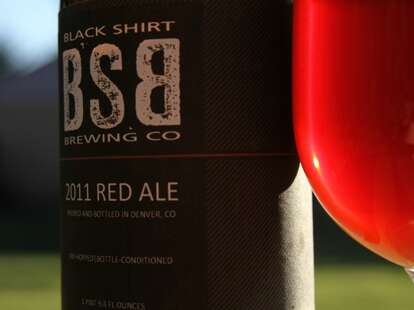 Mile High microbreweries often experiment with different styles of beer, trying to please every kind of beer drinker who walks through the door, even the ones wearing those weird sock-shoes. For one that just wants to be good at one thing, check out Black Shirt Brewing.
Hoping to raise enough scratch to open a 40-seat taproom in RiNo, Black Shirt's a microbrewery focused solely on creating the world's preeminent Red Ale (which they say they may eventually barrel-age or jazz up with some rye); they've already put in three years to hone a recipe (sourcing a portion of their hops and 80% of their malt from local farmers) they call "CO in a glass", even though all that stuff is clearly made of more than carbon and oxygen. Donating to their Kickstarter will not only allow them to produce "singular and unique batches" of their Ales, but also complete the taproom, which they envision as having a glass-front garage door for an industrial feel, plus a "CO mountain side" thanks to refurbished barnwood, a mountain mural, and some gondola/ chairlift seating -- fitting, as you'll be making Epic Passes at the ladies sitting in them. Kick-backs range from getting to challenge a brewer to ping pong in the taproom and scoring a swag pack with BSB stickers/coozies for $25, or all that plus a shirt, a mention in their book documenting the process, and an invite to the grand opening party for $500, while $1250 also nets you a VIP tour of Denver/Boulder's best breweries and beer bars while being chauffeured in a '66 Dodge Coronet convertible, although it's unclear if those chairlift chicks will have their tops down, too.
If the project takes off and they raise $75k, you can also expect a barrel room and bottle cellar, which even those sock-shoe guys will agree is toe-tes awesome.