Though located in Wheat Ridge, Brewery Rickoli mainly employs a much more delicious crop, serving their own hop-heavy beers in a 16-spigot taproom run by a brewmaster who broke free of Renegade Brewing, so he's got to be like, the most maverick-y maverick ever.
They're not particularly worried about balancing their IPAs, so hop heads, get psyched for the 9.6% ABV'd Disturbed Reflection Double IPA that "reeks of pungent hops and alcohol", the imperial black IPA Black Pline, and the pale malted Totally EYE-P-A.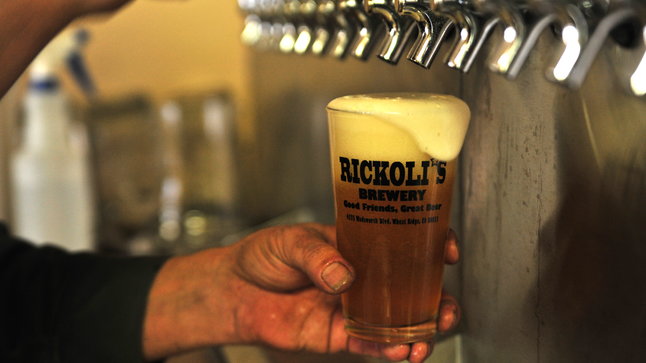 Other styles include the German altbier Aldo RED, a craft version of Genesee's Cream Ale, the well-named Scotch ale Social Lubricant, and eventually, custom cask versions of their beers dispensed from an English beer engine -- the brewer's so excited about it he could practically F1!
The taproom's got 49 seats and a 24ft bar, and if you're hungry, makes a fine "extension dining room" for restos like the nearby 24hr Mexican taco emporium Ralibertos. And the super lazy can get a pizza from myPIE delivered, which, like this place's brewer breaking free of his old job's chains, is free to go.