A deal falling through can sometimes be a blessing in disguise -- seriously, if that show was still on, America would never have gotten to fall in love with Howie Do It! For a resto that fell into a rad spot after their first deal didn't close: Row 14. Fortuitously landing in the skyscraping SPIRE after their initial location fell through a year into the process, Row 14's serving upscale New American, inventive cocktails, and 90+ wines in a 120-seat "urban sophisticated" joint that features an open kitchen, patio seating, solid wood tables, and a glass facade providing views of the Big Blue Bear peeking into the CCC, because like many bears, he's probably into the hairless, nubile bodies of the Jonas Brothers. The app selection's highlighted by housemade charcuterie (country pate, pork rilletes) and the coconut/ hoisin/cabbage slaw Five-Spice Duck Crepes, while entree standouts include Crispy Duck Leg Confit with polenta/ kale/ star anise jus, and a Roasted Wild Alaskan Halibut with pork belly and trumpet mushrooms, which are also what let Louis Armstrong think up all those bizarre scat sounds. Curated by a Wine Spectator-honored director, the "affordable and accessible" international vino list (40+ by the glass) aims to explore "what geography does to wine"; for those more interested in what liquor does to them, they've got cocktails from the pisco/ vodka/ passion fruit puree/ muddled kumquats Peruvian Sunset, to the brunch-enhancing vanilla-infused rum/soda/housemade horchata Tijuana Breakfast, despite that being a meal more commonly accompanied by a Moscow Mule. And for those who can make it until 4p, they've got a happy hour serving snacks like "crunchy Moroccan lamb cigars" with tahini sauce, and a $4 cocktail of the day, to which a now unemployed Howie will say "deal" to every time.
Recommended Video
Potato Skin-Breaded Queso Balls Will Make All Other Apps Obsolete
Previous Venue
Next Venue
Venue Description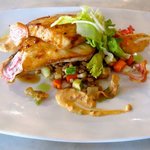 1. Row 14 Bistro & Wine Bar
891 14th St, Denver, CO 80202
Row 14 pays equal attention to its cuisine as it does to its drinks. Its substantial wine list is curated with the intention of pairing well with any of the delectable meals of its menu. Think about how heavenly the heavenly match up of a New Zealand Pinot Noir with roasted duck breast must be.