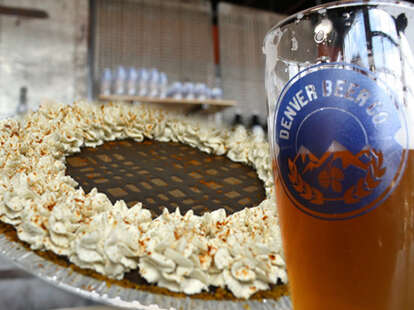 You know what's more American than apple pie? Apple pie with beer. Both consumed while wearing these ridiculous pants. So buy those, then expect plenty of high fives at Denver Beer Co's Pies and Pints Festival, an "All-American celebration" of what the Platte St brewers feel is a seriously under-appreciated dessert
Just 10 bucks snags you three pie tasters from Maple Street Pie Company, each paired with a 4oz pour specifically selected to match the pies' flavor, meaning
A refreshing Kaffir Lime Wheat alongside a traditional Key limer
A puckerful pairing of Tart Apricot Ale and a slice of apricot peach
Their "chocolaty, roasty" Chile Stout next to a Mexican Chocolate Silk Pie garnished with chocolate-covered peppers they warn might be "too hot to handle", so outsmart them by eating these things with your mouth!
Since a pi eating contest would just go on forever, they're hosting a pie eating one that'll go just long enough to make you sick. Sign up, and you'll try to scarf down a whole whipped cream disk, with the winner getting 1) glory, 2) material goods that're worth more than glory but're yet to be decided -- they'll be something good though, just keep your pants on. Especially if they're these pants, which again, are amazing.