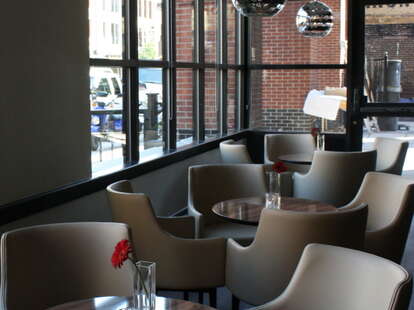 Bars and restaurants are always being named after friends, but what if none of yours are cool enough, or you're T-Boz, and "Chili's" is already taken? Then creatively name it for a friend who isn't real, like new lounge Chlóe
From the nightclub titan who brought Denver Suite 200, Chlóe is named for that (fictional) "one friend that is always ahead of the curve before everyone else", and harbors low-slung couches, and a massive dance floor abutted by a 22ft LED wall and 20 bottle-service-ready tables, all of which'll see a DJ spinning "something close to the Las Vegas sound", so have fun dancing to you hitting rock bottom. Remix! Bottles for conspicuous order run from Perrier-Jouet Champagne, to TY KU sake, to Jean Marc XO vodka, plus there are specialty cocktails like the "Conte de Fee" with serrano chile-infused vodka/ Leopold Bros absinthe/ cucumber/ mint, and a Rhum Barbancourt/ Velvet Falernum/ egg whites concoction called "The Summer Holiday", though after the 4th, you'll probably want to take it easy. To fuel your impressive dancing/ lying-on-a-couch-looking-hot, they've got lamb sliders with Iberico cheese/ harissa aioli, all kinds of kebabs, saffron-fennel steamed mussels, and shareable platters (everything from fattoush to prosciutto-wrapped asparagus), all on a menu they describe as stocked with "portion-conscious Mediterranean" -- omg, they're eating Portia De Rossi?!
Although you're definitely good looking enough to get in, the best way to ensure your whole crew makes it through the door is to reserve a table/ bottle online, which, coincidentally, is where all your super-cool friends live.