While everyone knows that metalheads are fueled by the blood of pure-born babies and nipple-sucklings of large-breasted virgins being sacrificed to Quetzalcoatl The Destroyer, occasionally they also like to drink beer. Enter Denver's newest, metal-inspired hops factory: TRVE Brewing. With a minimalist, bench-filled, 80-seat taproom, each of TRVE's eight styles are named for the crew's favorite metal songs and albums, which aren't the Maiden-esque classics you're thinking, but rather strains of prog, stoner, and "urban black" metal that sort of need to be seen to be believed. Won't you check out perhaps the world's greatest fusion of metal and beer in this photo-filled rock tour?
Recommended Video
Vespa Your Way Through Vietnam's Budding Craft Beer Scene
Previous Venue
Next Venue
Venue Description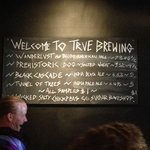 1. TRVE Brewing
227 Broadway, Denver, CO 80203
With all of their beers named after their favorite metal songs/albums, the guys over at TRVE are always down to rock, so they make sure their taproom's the perfect place for you hang out, have fun, and, of course, drink awesome brews.