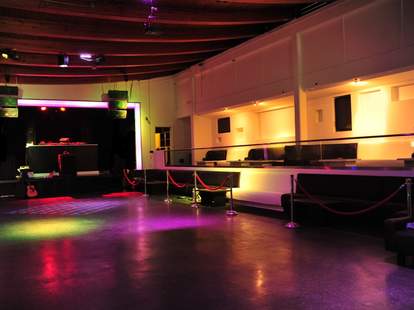 Nightclubs named after Buddhist terminology are nothing new -- think about Karma. Now, like, think about all the terrible things you've done at nightclubs named after Buddhist terminology, and how they're going to come back around to ruin you. Then forget it all and go to Satori, following in that proud naming tradition
Taking over the old Rockstar Lounge, Satori means "enlightenment", and has fittingly ditched the trashy stripper poles, and gone totally spiritual moderately classier with a soft white/ black color scheme, high-res LED wall paneling, a spankin' new sound system, and 11 booths overlooking a 4000+sqft dance floor fueled by DJs on a raised stage. Each night is themed, with live bands on Wednesdays, mainstream dance/ top 40 remixes Thursdays (ladies drink free 'til 11!), and drum & bass and dubstep (the one that sounds like Transformers having sex) on Saturdays -- the one night at Satori when everyone would be psyched to see a deadmau5 on the floor. Bottle service connoisseurs can enjoy Russian-favorite Imperia vodka, limited-edition Crown Royal XR, or the standard Dom, while those who prefer their drinks be mixed for them can hit the bar for the bourbon/ Tuaca/ sweet tea A Day at the Races, and the vodka/ Red Bull/ tequila/ rum/ gin Lucid Dream, aka "alcohol"
Because dancing and drinking are more fun with eating, they're planning to serve food shortly, meaning whether or not things come back around, you'll definitely come back 'round.