For a brewmaster likely to make comments about Uranus before you've both knocked a couple back, head to River North Brewery, which's run by a former Lockheed Martin engineer who worked on a "space capsule intended to replace the Space Shuttle" before apparently deciding that stuff wasn't challengering enough and focusing on beer. The spankin' new, 35-seat RiNo taproom's got a warehouse-y feel, which is good, because you'll be loading your palate with their four Belgian-style brews (and "American styles with a Belgian twist"): Black IPA: Spiced up with roasted malts, this 6.5% ABV beauty features "coffee notes along with the good bitterness everyone loves in an IPA", and is called Hello Darkness, presumably because after drinking a couple you'll start acting like everyone is your old friend. White Ale: A 5.2% witbier they're calling the River North White Ale because they used up all their creativity naming Hello Darkness, this wheat-based, Belgian-style sucker has a "crispy, citrusy, and very refreshing" taste. Saison: This dry farmhouse is stronger than the White Ale, will retain "the spicy notes you find in Belgian styles", and is named J. Marie after the brewer's wife, meaning after Lockheed, the dude's even more married to his work. Belgian Pale Ale: Amber-hued with "a good balance of hoppy bitterness and sweetness", this one promises a Belgian character that's "muted in the background", actually something many people wish they could do when engineers start talking about what they do.
Previous Venue
Next Venue
Venue Description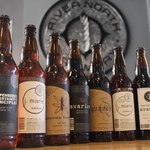 1. River North Brewery
2401 Blake St, Denver, CO 80205 (Five Points)
This brewery was founded by a former engineer for Lockheed Martin, and the same attention to detail that went into aerospace technologies now goes into devising new beer recipes. The taproom opens one hour before every Colorado Rockies home game, ensuring that you've got some time to grab a seat and a brew before the fun begins.