Bowling alleys aren't exactly known for killer food, outside of their ancient nachos containing deadly gastrointestinal viruses. Thankfully, Punch Bowl Social is ready to change that perception, one bowling ball of a belly at a time

Rocking eight full lanes, '80s arcade games, ping pong, a "gastro-diner", coffeeshop, and a bar, Punch Bowl's decor is "dirty modern", which means a 6ft faux deer head, encyclopedia page wallpaper, and a raging fireplace among other "Victorian and Modern" elements, making this place perfect for The Bowling League of Extraordinary Gentlemen. Breakfast means cage-free eggs in a Maine lobster & burrata omelette, a shiitake/creme fraiche burrito, and a veal demi/ sunny-side duck egg Pastrami Hash. Then from lunch to midnight, there's aji amarillo chili wings, sandwiches like a turkey/cranberry sauce/roast pumpkin puree Thanksgiving-er, and meaty entrees like buffalo meatloaf, Texas beef ribs, and carnitas tacos

The bar's (wo)manned by a former Root Down cocktail genius (geniuesse?), who's pouring four different big bowls on the rocks, such as the bourbon/Leopold Bros peach liqueur/Chinese 5 spice syrup Whiskey Punch. There are also normal-ish 'tails like the whiskey ginger simple syrup/ bitters Son of a Buck...but why are you here if not to bowl?
Recommended Video
Pig Beach is Challenging the Barbecue Game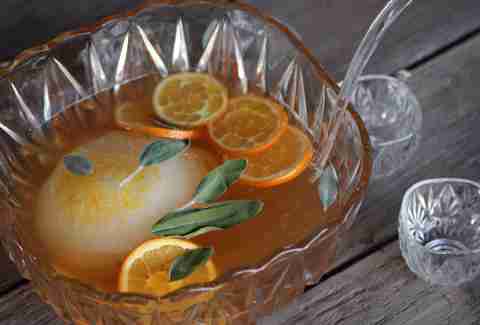 Previous Venue
Next Venue
Venue Description
1. Punch Bowl Social
65 Broadway, Denver, CO 80209
It might advertise itself as a restaurant and bar, but Punch Bowl Social is first and foremost a game hall. The 24,000sqft space features skeeball, shuffleboard, bowling, and a handful of arcade games. Though the whole set-up is kiddish in nature, retro decor gives it a cool, mature boost and polished bites like truffle kettle chips and cauliflower nachos elevate the experience to a tasteful level, making it worthy of the reservations you'll likely have to make.