Getting around ATL's pesky happy hour ban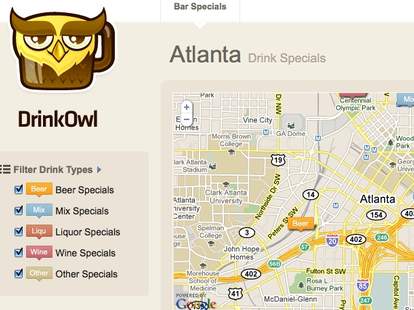 People have been getting great messages from birds since way back, from ancient Egyptians using homing pigeons, to when Morris Day first squawked to America that he had a brand new dance. Hallelujah!! Find out from a wise bird how to get the cheapest drinks in ATL, via DrinkOwl.
Because the happy hour law completely sucks, Owl's a new-to-ATL, totally free phone app/website that delivers glorious news on discounted beverages all around town, started by two dudes who say they've invested thousands of hours "finding, verifying, and formatting all of this data for you", making Goonies fans worldwide wonder why nobody's looking for Chunk. It'll first GPS your locale and populate a Gmap with all nearby imbiberies, letting you know which're running specials at what time and on what, letting you filter by days of the week, sauce types (beer, liquor, wine, mix), and "other specials", although it makes no promises that anybody's screening Nestor, The Long-Eared Christmas Donkey this early. They're adding more bars constantly, with already cataloged deals like Highland Tap's 5-7p $2 Sam Adams Light bottles, $5 wine/small plates at Peasant, and $5 Martinis at The Chocolate Bar, which everyone knows is a serious Skor.
Smartphone-less losers! people can browse the website to see a map with deals all over the city, and they'll soon add social networking capabilities to share your finds plus a dedicated page for your "favorites", which for Morris Day was the guy who held the mirror on-stage so he could fix his hair and mustache.