An enduring classic about the struggle between man and beast, Melville's whaling tale might accurately be described as "timeless", except for the fact that reading it takes quite a lot of that stuff. So why not experience Moby Dick in a briefer, more fun way instead by hitting Montauk's new pop-up of the same name
Officially opened on the 4th, this pop-up eatery/cocktail bar takes after its namesake Spermy in elusiveness: hidden down a path adjacent to Rick's Crabby Cowboy Café, it overlooks Lake Montauk, and exudes a relaxed vibe thanks to tiki lanterns & soft string lighting, white-painted park bench tables, outdoor couches, lobster traps, and dual lifeguard stands. The bar rests in front of two large fishing boats, seats 10 (...people, not fishing boats), and pours two taps, glasses of rose and Riesling, and bottles 'n cans (Tecate, Narragansett, and Moretti) alongside 'tails like the gin/Campari/rhubarb/lemon Good Omen, though too many will give you night terrors, just like the regular Omen
Recommended Video
Make This Apple Brandy Elderflower Sparkler for Your Next Fancy Party
And should you be hungry from your journey, a makeshift kitchen pumps out nosh like Montauk Pearl oysters and oven-roasted Long Island mussels (w/ fennel, onion, tomato, chili, and beer), a newly constructed wood oven -- pizzas and whole Block Island porgies, finally giving you a fish you can actually finish in one sitting.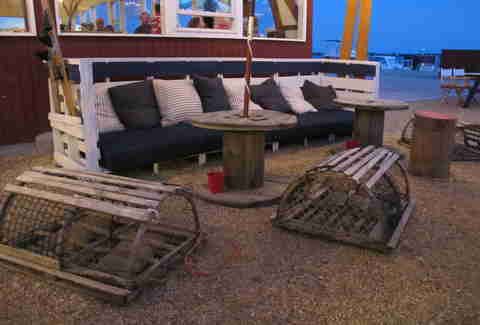 Previous Venue
Next Venue
Venue Description
1. Moby Dick's
435 E Lake Dr, Montauk, NY 11954
A hidden pop-up eatery overlooking Lake Montauk, Moby Dick's exudes a relaxed vibe thanks to tiki lanterns & soft string lighting, white-painted park bench tables, outdoor couches, lobster traps, and dual lifeguard stands.