Located juuuust off The Strip (but don't stop reading, it's about to get good), Oracle Mansion's a new nightclub-cum-restaurant-cum-hookah lounge that looks sorta like the palace in Temple of Doom. You'll make the (Short) rounds through two floors and 18000sqft worth of Mediterranean arches, glowing crystal-beaded lounges, exotic bars, and private sky boxes that come with a personal, sexified maid (told you it would get good!), and overlook a massive dance floor. Available tobacco towers're handmade with recycled liquor bottles, come stuffed with any of three house blends and 35 different flavors (Electric Lotus, Tijuana Sunfire, Kozmo...), plus're available in several awesome incarnations, including all-you-can-hookah, and nicotine-fiending Kareem Abdul-Jabbar's personal favorite: hookah-and-a-shot. And because you're going to need something for those sexified maids to do after they deep-clean your shower... sexily, order up bottle service from SKYY to Dom, or specialty pours like the Diwaan (tequila, peach/melon liqueur, cranberry, sour mix) and the Green Hornet (vanilla, grape vodka, Midori, amaretto). Oh and the food: it's cheap (everything's $10), it's delivered to nearby Panorama Towers, and it's delicious-sounding, from slider trios (kafta, triple smoked & cheeseburger), to a mini kabob platter, to five types of chicken wings, which you'll be super glad to have when you find out there're nooo mooore parachutes.
Recommended Video
This Garden Sour Is the Perfect Excuse to Eat Your Veggies
Previous Venue
Next Venue
Venue Description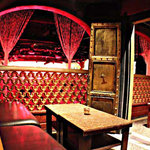 1. Oracle Mansion
3500 W Naples Drive, Las Vegas, NV 89103
Even though this place is slightly off the Strip, their Friday hip-hop party (and Saturday Top 40 party, for those who love T-Swift and uhhh....Demi Lovato remixes) are not to be missed. It's also a Hookah bar and restaurant, so you pretty much have everything you need while being a 3 minute cab ride from conformity.