Things that mean you're probably smart: wearing a lab coat. Things that mean you're probably smart AND work at The Cosmopolitan's new adult ice cream lounge: wearing a lab coat... and a bikini! "Wait, adult ice cream lounge?", you ask. "Yep", we handsomely retort, "it's called The Neapolitan. It's a just-opened, booze-infusing dessert-ery where girls in super short lab coats and bikinis serve you judgement-impairing sweets poolside, like..."

Loaded Popsicles: Li-li-li-li-li-lick-ables include the Pour Some Sugar On Me (peach sorbet & Maker's Mark dipped in brown sugar), the Watermelon Patch (frozen melon margarita, fresh cucumber & chile salt), and the Pina Colada-inspired Getting Drunk In The Rain, which'll help you do just that (assuming it's raining), spiking a pineapple-chunked coconut 'sicle with Don Q rum

Liquored-Up Liquid Nitrogen Sorbets: These little miracles of alcoholic awesomeness count the Snow Bunny (w/ Stoli, raspberry syrup & Red Bull), and the Black And Tan This, a Bass & Guinness palate cleanser topped with chocolate shavings, pretzel bits, and sea-salted caramel, fo' drizzle

Spiked Shakes: Available at the bar, or at the pool via an ice cream bike car, strawed sippers include the Neapolitan (chocolate-strawberry shake w/ Tequila Rose & Biscotti Liqueur-infused whipped cream) and the W.W.E.D (bourbon, chocolate, peanut butter & maple bacon sprinkles) -- which you probably shouldn't order if you're... wearing a bikini!
Recommended Video
This Outdoor Food Hall Serves Up All Things Deliciously Asian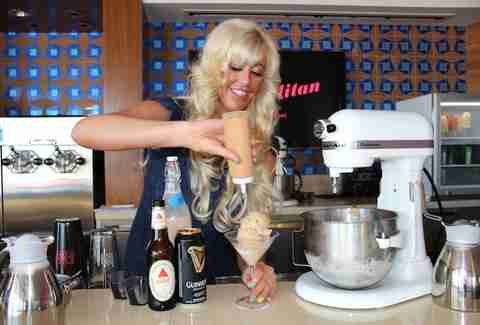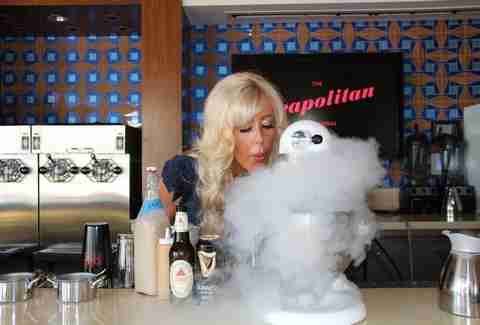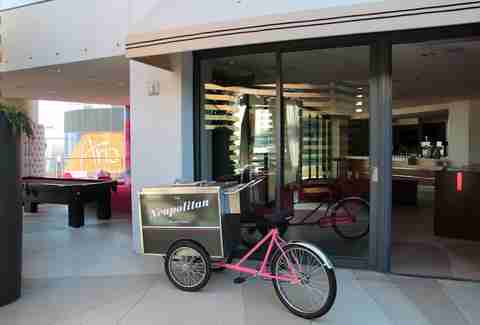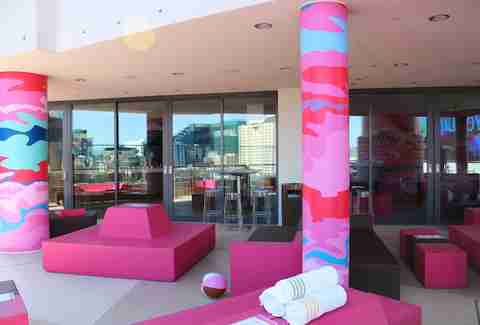 Previous Venue
Next Venue
Venue Description
1. The Neapolitan
3708 Las Vegas Blvd, Las Vegas, NV 89109
The waitresses aren't wearing lab coats just because they serve liquid nitrogen-infused sorbets. This is Vegas, so we can actually guarantee that there is a skimpy bikini under said lab coat. Mixologists have done their homework to ensure you're getting grade-A, trashtastic "adult popsicles" and their signature Neapolitan Dot Dips (read: ice cold balls that taste like chocolate but are going to get you toasted.).