Bikinis + Ice Cream + Bikinis + Guinness + Bikinis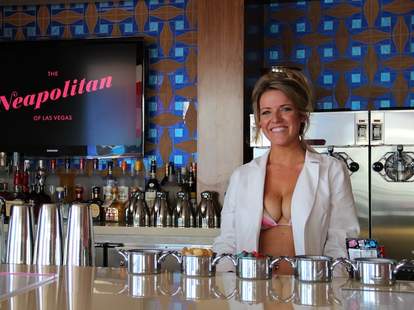 Things that mean you're probably smart: wearing a lab coat. Things that mean you're probably smart AND work at The Cosmopolitan's new adult ice cream lounge: wearing a lab coat... and a bikini! "Wait, adult ice cream lounge?", you ask. "Yep", we handsomely retort, "it's called The Neapolitan. It's a just-opened, booze-infusing dessert-ery where girls in super short lab coats and bikinis serve you judgement-impairing sweets poolside, like..."
Loaded Popsicles: Li-li-li-li-li-lick-ables include the Pour Some Sugar On Me (peach sorbet & Maker's Mark dipped in brown sugar), the Watermelon Patch (frozen melon margarita, fresh cucumber & chile salt), and the Pina Colada-inspired Getting Drunk In The Rain, which'll help you do just that (assuming it's raining), spiking a pineapple-chunked coconut 'sicle with Don Q rum
Liquored-Up Liquid Nitrogen Sorbets: These little miracles of alcoholic awesomeness count the Snow Bunny (w/ Stoli, raspberry syrup & Red Bull), and the Black And Tan This, a Bass & Guinness palate cleanser topped with chocolate shavings, pretzel bits, and sea-salted caramel, fo' drizzle
Spiked Shakes: Available at the bar, or at the pool via an ice cream bike car, strawed sippers include the Neapolitan (chocolate-strawberry shake w/ Tequila Rose & Biscotti Liqueur-infused whipped cream) and the W.W.E.D (bourbon, chocolate, peanut butter & maple bacon sprinkles) -- which you probably shouldn't order if you're... wearing a bikini!