Obscuring your best asset can be a canny move, as people will be even more impressed upon discovering it, e.g., "Goodness, did you know Dolph Lundgren has a degree in chemical engineering?", or "Goodness, did you know Calum Best can read?" Discover one of the tipsy-est hidden assets around: The Mayor Of Scaredy Cat Town, now open.

Set underneath the new Breakfast Club in Spitalfields, Mayor's actually accessed via a fridge hidden at the back of the cafe; pull open the door, then climb inside and down some stairs, and find a brick-walled, moodily candlelit space that patrons (again, actually) are told to eventually exit via secret-doored toilets, "nonchalantly as if you've just had a pee", perhaps even "leaving your fly down", as if you needed to be reminded to do that. Le hooch includes the Scotch & Grand Marnier "Lynchburg-Leith Lemonade", pear & cardamom Sidecars, the hot red pepper & lemongrass Tommy's Chilli Margarita, and a gin/ pineapple/ rosemary/ lime invention named Rosie & Gin, which might make you feel ragged and Scowley the next day, but you'll have such a good time you won't give a Duck. Other intoxicants include John Hollows alco-laced ginger beer, Cruzcampos & Budvars, and even a table-made Bloody Mary bar, mixed to your specs from home-roasted cherry tom juice, w/ spirits & ingredients ranging from the traditionals (garlic, lime, wasabi, etc.) to balsamic syrup, pickled asparagus, and mustard seeds, which unlike the Lightning variety don't see the need to keep recipes pure and simple every time.

In a show of consumptive compromise between upstairs breakfasting and the nocturnal imbibement below, you can grab a late-serving weekend brunch with the likes of pancakes w/ bacon, blueberries & maple, avo w/ chilli & poached egg, or good old-fashioned steak, egg & chips -- make that meal a habit, and ensure your best ass-et will become anything but obscured.
Previous Venue
Next Venue
Venue Description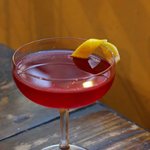 1. The Mayor Of Scaredy Cat Town
12-16 Artillery Ln, , London, E1 7LS
Upon telling the helpful staff at The Breakfast Club that you are there "to see the Mayor," you may then climb through a Smeg fridge and down some stairs into a brick-walled haven of booze. Keep an eye out for the Irish Garden, a blend of Ban Poitin, yellow & green Chartreuse, mint, cucumber, apple juice, celery bitters, and lemon juice. Remember when you leave to try and keep a straight face -- despite the fact that the exit takes you through the My Little Pony toilets.