30 barrels of ale, all at £3 a pint!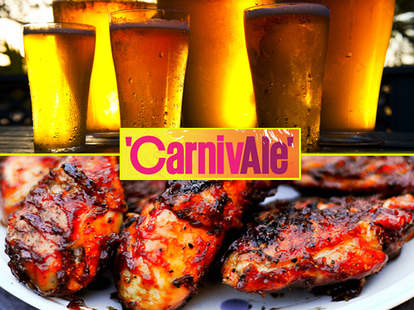 Thankfully channeling the sexy, tropical kind of carnival, not the one with game-rigging inbred Norfolkian teddy bear-hoarders, next Sunday's CarnivALE at The Sebright Arms will bring you a whopping 30 barrels of local crafts for a mere £3 a pint, plus 20 ciders all sourced "from real London apples", and BBQ from the Lucky Chip folks, slinging their usual burgers, plus beer can chicken (finally, a drink that actually will give you wings). Use this quiz to test your knowledge of just some of the participating local brewhouses, and click through for the answers.
This pub-adjacent hoppery put out its first pints not eight weeks ago, meaning it's definitely too young to drink.
During the riots, these guys bravely barricaded themselves inside their brewery, with only about a thousand bottles of beer for company, the poor bas****s.
This ale-house was founded by a man who formerly worked in R&D for a chemical company, so it's fair to assume he knows how to get you inebriated, and that he uses the word "inebriated".
This stuff is all rustled up in a brewery that used to serve as "a safe-house once used by our local Highwayman Dick Turpin". Dick Turpin everybody!
These guys are putting out beer based on a recipe the founder used to brew in his own bathtub, for a nice, clean, Imperial Leather flavour?
This brewery recreated a pale ale originally brewed for the 1908 Olympics (even today it's still gold).
This venture's run by an Argentinian man named "Julio", and puts out beers named after a Hugh Grant movie, but don't expect its offerings to impart either sense, or sensibility.