Holborn's Bounce is housed in the very dining room where John Jaques III invented ping pong using cigar box lids as paddles, Champagne corks as balls, and probably a lot of Champagne as inspiration. The sporting bar's run by Jaques' grandson and one of the dudes who founded All Star Lanes, who've loaded the striking, low-lit space it with a whopping 16 tables, including the actual Olympic centre court. Along with balls, they're also serving edibles in a raised seating area overlooking the tables, ranging from plates of salami-laden focaccia pizza, to slow-cooked meatballs, to wild 'shrooms doused in truffle oil. To get you non-sportingly smashed, the 40ft bar provides originals like the imposing Tipping Point, bringing together vodka, gin, rum, tequila, absinthe, maraschino, and lemonade -- or, order the Match Point, which is the same cocktail, except Jonathan Rhys Meyers' smouldering eyes bore into you while you drink it. Other alcoholic contenders include the refreshing Blue Moon & gin De Beer, and the rum/ port/ raspberry vinegar The Shrubbery, sadly not served in a giant grail, but with a little inspiration you'll figure out how to drink a lot of it.
Recommended Video
This Mojito Hot Toddy Is the Destroyer of Colds
Previous Venue
Next Venue
Venue Description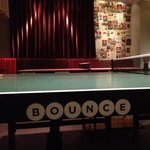 1. Bounce
121 Holborn, London, EC1N 2TD
Also known as the place to hanging out with your friends while simultaneously desiring to mercilessly crush them in ping pong, Bounce also delivers on restaurant-quality pizza and massive drink list. Everyone can make up and chase defeat with a cold brew.