An old-fashioned story of bartender meets bar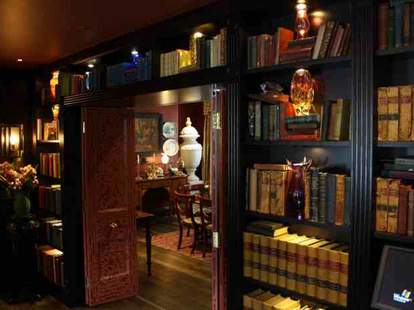 Finding the perfect setting in which to express yourself can take time, especially if you're an X Factor hopeful, and your shower's hot water is taking forever. To see artful booziness expressed in ideal surrounds, hit the ZTH Cocktail Bar, now open for public consumption.
Helmed by Tony "The Heston Blumenthal of Cocktails" Conigliaro (of 69 Colebrooke Row fame), this boutique hotel drink den sets his creatively old-school imbibements in a Georgian-esque space eclectically piling plush sofas onto oriental rugs and surrounding them with crowded mismatched paintings, scattered antiques, and, to get the place hopping, a whole stuffed kangaroo. The concise cocktail list sees inventions from the Flintlock (gunpowder tea tincture, gin, dandelion & burdock bitters, Fernet Branca) to a drink made with Kigo (Japanese sweet potato spirit) and yuzu called the Treaty of 1854 -- referring to Japan's first treaty with a Western nation, made after the US parked warships off their coast (and that was the end of that!). Making the familiar unfamiliar are classic twists like Köln Martini, switching out the vermouth for a "hint" of homemade citrus aromatics; The Nettle Gimlet, whose Beefeater's hit with homemade nettle cordial; and the Somerset cider brandy & Breton cider "Somerset Sour" -- a mood resulting from Somerset thinking it was getting a *Britain* cider.
To expand your belly along with your alcoho-rizons, there's a bar menu featuring charcuterie plates, crispy crab sandwiches, and a beef daube on mash, plus smoked haddock fishcakes and full Englishes -- which in this perfect setting, you'll accompany with more booze, instead of a tepid glass of McEl-Dairy.