The boys from Purl take it back to the future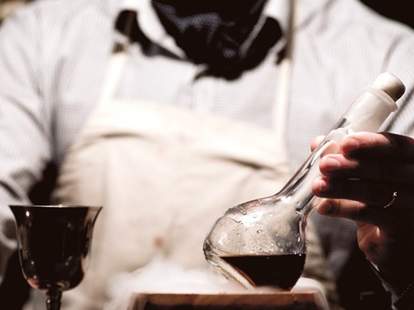 When your bar's already set high, one-upping yourself is tough -- for instance, whatever awards-show outfit Lady Gaga chooses next will have to be very well done. Representing a truly sterling sophomore effort: The Worship Street Whistling Shop, opening Thursday.
From the men behind old-school tipple den Purl, Whistling's ornate Victoriana setting (including full gas-lit lamppost) belies a wildly experimental mission centered around an antique-windowed "lab" where they devise cocktails never before tasted by man, and nobly use themselves as guinea pigs. Creations thusfar range from The Exploded Vodka Martini, made with a "high pressure hydrosol" that infuses concentrated botanical essence, and the Punch & Judy: rum, "walnut ketchup" (Port/ chocolate/ saffron/ green walnuts), and malic acid, which adds sourness, which after all she's been through, pretty fairly describes Judy. They've also dabbled in aging their drinks: the rum/absinthe Radiation Aged Cocktail gets instantly matured via lab-irradiation; the Champagne Gin Fizz is corked flat in-house and fermented in the bottle; and there's a selection of pre-mixed 'tails that've been allowed to mellow for months in former sherry casks, like their take on an Old Tom, which weirdly had Selleck calling them yelling "Don't call me that! I can still carry a romantic comedy!".
The bar also boasts two private drinkers: The Dram Shop, with its sawdust floor, cast-iron bathtub, and honesty-operated gin "library"; and the Emporium, offering two-hour "multi-sensory experiences", the first involving sea air, gunpowder, wet wood floors, the sound of waves, and tilting lights to "give the impression of being on a ship" -- clearly an ode to Britain's most storied spirit, rah-rah-ah-ah-ah-rum.