You and your liver can finally go Dutch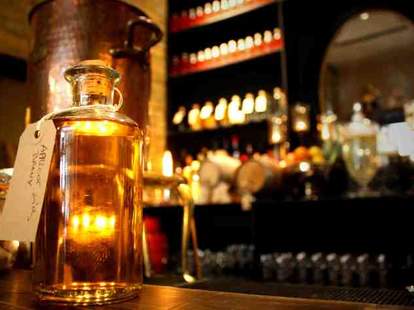 Looking to the past for inspiration can mean great things in the present, though perhaps not for Ryan Giggs, after it was revealed just how much he does Miss Wales. Resurrecting old ways to get woozy: VOC, now open.
Inspired by the 17thC Dutch East India Company -- whose Oriental trade runs were fueled by various exotically spiced & aged punches -- VOC is a nautically themed, wood-decked, brass-fitted bar teeming with vessels containing both authentic and re-imagined aged boozes: wax-sealed vintage bottles behind the bar, barrels swaying from the ceiling "as if at high sea" and, soon, you, swaying in much the same manner. Perfected over "years of research" (read: drinking) and served in tankards and chalices, ancient libations stretch from the warmed Dog's Nose (gin, rangpur, horseradish, pressed apple, Meantime porter, spices, vanilla sugar & honey), to Bergamot Grog, which mixes rum, Earl Grey, palm sugar, galangal & tobacco leaf, or, what insane mulleted Canadians stand out in the freezing cold to smoke after watching the Maple variety. They've also whipped together their own concoctions, like the Flogged Flip (rum, homemade hay-infused stout reduction, honey water, bitters & egg), and an oak-smoked arrack (fermented from coconut palm sap), heather, scleranthus/chocolate bitters, and caramel water number called The Royal Red, sure to put Harry on your chest.
They're also offering a secret list, available by request only, of bottle-matured punches created by the staff, whose appellations are written on a leather-bound ledger, along with their date of bottling -- don't tell anyone else about these cloistered treasures, as the information is under an extreme Giggsing order.