Buy one of these graphic tees and part of your $$ goes to charity (huzzah karma!); options include a monkey riding an old-timey bike that's probably way easy to ride anyway, one w/ Polaroid-esque pics of nature called "Mother Earth Snapshot", and another with a graffiti can spraying text that says "Art is My Weapon", which's especially helpful if Art is, like, 6'7" and has a year-long membership at a boxing gym.
Recommended Video
You Can Now Get Artisanal Twinkies Delivered to Your Door in NYC
Previous Venue
Next Venue
Venue Description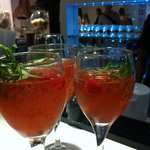 1. Shaker & Company
119 Hampstead Road, , London, NW1 3EE
After a decade spent pouring knowledge into the brains of the world's best drink-smiths, tipple institution Shaker & Co's now practicing what they preach with an eponymous first bar: a low-lit, old-fashioned, "New Orleans-style" affair whose wooden walls hold gas lighting, a piano, and a vast floor-to-ceiling bar filled with both booze & books (with brain cells, it should be education before decimation).