Exotic booze from a bar in not-so-far Bombay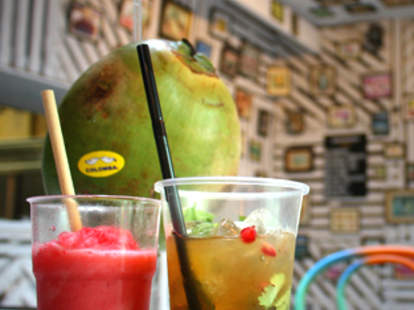 Recreating exotic locales within England's temperate shores isn't easy -- just look at the Notting Hill Carnival, which according to reliable sources tends to devolve into violence more offensive to humanity than Notting Hill. Far more successfully evoking paradise: Dishoom's Chowpatty Beach Bar, officially opening today on the Thames Southbank.
Popping up for summer, the Covent Garden curry maestros have shipped in a full 48T of sand to create an actual beach for their beach bar, aiming to replicate the ramshackle vibrancy of Mumbai's famed sea-spot by dint of brightly coloured oil-drum stools, walls made entirely from newspapers, a bar crafted from plastic bottles, and a boat filled with green coconuts they'll happily chop open for you to sip from, so...don't be shy about asking. Imbibements continue with traditional Golas (made from block-shaved ice doused in flavoursome syrup & booze, e.g., orange, ginger & Jack), plus pitchers of pomegranate/ginger beer/gin Bombay Pimm's, as well as Spiked Colaba Iced Tea, which toughens up darjeeling with lime, apple, and rum -- giving new meaning to "hard water area". There's all manner of street food too, from filled naans (smoked back bacon, cumberlands w/ chilli jam, spicy lamb mince), to slow-cooked homestyle Chicken "Ruby" -- "Ruby Murray" being Cockney slang for curry, because why the Donald Duck not.
As the weather amps up, they plan to host a series of "impromptu unplugged gigs", while they've also booked in a resident DJ whose job is to recreate the sound of '60s Bombay -- which despite media reports, really isn't the screams and thuds of roving locals beating up innocent tourists.