Burning burgers, cocktails, and getting literally as drunk as a lord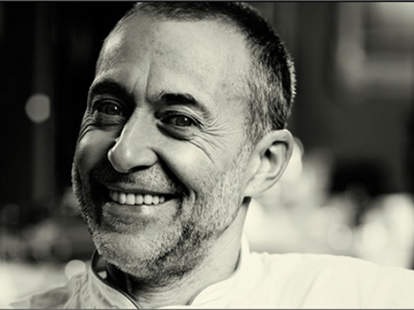 Because we were thirsty for perfectly balanced glasses of knowledge, we sat down with the Master Chef at his new cocktail bar, Roux at the Pembury, a gentlemen's club-style watering hole where it's your liver that'll see Michelin stars. His thoughts on holiday patriarchy, fast-food freedom fighters, and more:
Do you feel that cocktails are becoming a legitimate accompaniment to higher-end cuisine?

I do think that cocktails can be part of fine dining, in the same way I think beer can be as well. The era of these super-sweet, sickly cocktails with the little umbrella and suchlike -- it was kitsch and glitzy, and not particularly nice. Now we're far more sophisticated. We know what we're putting down our necks.
The bar is in Parliament Square. Are you secretly trying to get diplomats sauced so they'll spill state secrets?

Ha! Yeah, this place is bugged. In all seriousness though, we do have a lot of customers that come from Parliament -- lobbyists, and ministers, and lords.
Your father and you are both legendary chefs. Who cooks Christmas dinner?

Unfortunately we don't spend too much time together at Christmas. The last Christmas I shared with my father was three years ago, and I cooked. It went very well honestly! Dad's normally happy if you keep him well… ahem, watered. As it were.
What was the last meal that really surprised you?

My word. I'm fortunate enough that I eat out quite regularly, and being in the business there are not too many things that do surprise me. I had an absolutely stunning meal at Zuma recently, and I was drinking a very young sake, which is unusual for a Frenchman I suppose -- and I must say it was exquisite.
And finally, do you ever have fast food?

My idea of fast food is a boiled egg. I was staggered to learn that the biggest market for McDonald's outside of the US… is France! But it is one of the few chains of McDonald's that serves alcohol. Still, there are villages in rural areas of France where they burn them -- there's a guy who's been to jail on several occasions for burning them down, his name is Jose Bove. He is an unbelievable character.
Of course, most of us become unbelievable characters via drinking, so Michel also kindly informed us of two off-menu rum cocktails he's serving to those in-the-know: the Zacapa Cerveza, with lime, beer, honey syrup, and a nutmeg & malt foam topper, and the Mayan Martini, starring orange bitters & Gewurztraminer -- if you can pronounce that after having one, then the master is clearly YOU.