Lemme tell you about this dame who just showed up in Chelsea. The handle's Evans & Peel Detective Agency, and she may look like a gumshoe's on the outside, but behind the hush-hush moving bookcase, she's all speakeasy -- a real scatter, trust me. We're talkin' wood floors, vintage cinema seating, felt tables, the whole caboodle


She likes to keep two things loaded: her 45 (gramophone player) and you, and she doesn't care who knows it. She's got house-infused giggle juice served in paper bags (whiskey with maple syrup; vodka with burnt ends) and beer poured from a tap attached to a radiator, so the badges are none-the-wiser; you can also dip the bill into a Carib Willy (rum, coconut water, Cointreau), or if you really want to get out on the roof, a Hop, a Skip, and a Jump: a brandy sour blended with the ankle's own pale ale reduction.

This dish smokes like it's going out of fashion, with a custom-built... smoker for... dishes like pulled pork sliders, an Alaskan salmon sandwich that she's pinned a few capers to, and "Mac's Cheese", which the broad describes as a "guilty pleasure", though all a guy should feel guilty about around here is if he's such a bindle stiff he can't find the joint in the first place.
Recommended Video
Drink This Winter Bourbon Smash and Conquer Cold Weather Forever
Previous Venue
Next Venue
Venue Description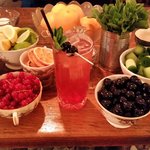 1. Evans & Peel Detective Agency
310c Earls Court Road W.8, London, SW5 9BA
This spot is presented as an actual '30s-style detective agency, where you have to come armed with an interesting case for the folks here to solve. If they accept your case, they'll pull just the right book on the shelf, which opens a hidden door to the slick cocktail joint behind. Wine and beer is kept on the DL in brown paper bags, while cocktails are ordered with a nudge and a whisper, like the Salty Can't Dance with Ardbeg whisky, Angostura bitters, orgeat syrup, lime, and salt.