Pairing food with beer since, well, now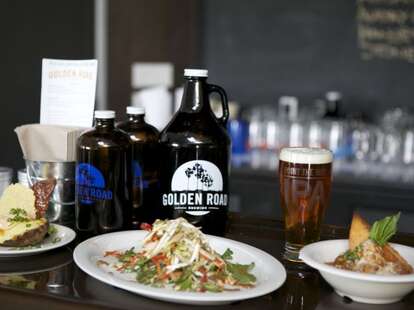 Now definitely open Wed-Sun after a couple of weekends playing peekaboo with access to the public and maybe even toddlers, Golden Road Gastropub's a classically interior'd (aged wood, Edison bulbs, etc.) brewbar from the Mohawk Bend/Tony's Darts Away dude, and is attached to their brewery, which is so damn monstrous, blue-skinned Howie Mandel and Fred Savage are probably subletting all the staircases in it right now.
Unless you're that dude from Shanghai who actually eats Edison light bulbs, you'll likely want to opt for comfort vittles from their still-being-tweaked menu, like bacon/pork/pancetta meatballs in a bacon/tomato sauce (seriously served with twice-baked potatoes topped w/ aged white cheddar, prosciutto, paprika sour cream, Parmesan crackers, and green onion), as well as surprisingly decent-sounding vegan options like risotto fritters made with wild mushrooms. To wash down the light bulbs foodstuffs, they've got all their house brews on tap, like Point The Way IPA, Shwartz Stout, Festivus Cinnamon Bitter, Rye On The Palate, and Golden Road Hef, which is also what they used to call Hugh after he tapped the Good Witch. And the Wicked Witch...at the same time.
Going forward, they're planning to expand their hours and days, as well as invite friendly breweries to include their beers, from Hangar 24 to Eagle Rock to Dogfish Head, whose 120min IPA can quickly turn anyone into a Little Monster.