The Bigfoot Lodge guy goes back in time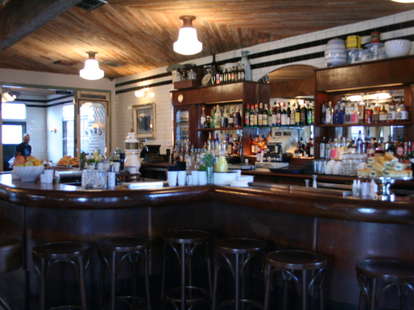 Putting together a business in honor of one of your idols is tricky, especially if your event planning biz claims to only do "White Weddings". For someone who managed to do it without potentially setting off a load of discrimination suits, check out Oldfield's Liquor Room.
Opening Friday, Oldfield's is a throwback cocktail bar that looks sort of like the apothecary that you used to visit when you were young and adept at traveling back in time to the early 20th century, with tiled floors, antique wood tables/chairs, and a massive wood bar flown in from Wisconsin, all from the semi-pro car racing guy behind Thirsty Crow/Bigfoot Lodge, who named the space after the first race car driver to hit 60mph. To ensure drinks would be better than Ezra "a vodka topped with an energy drink, served up", he brought in three sweet local 'tenders (La Descarga, NorCal's Club Mallard, and Rivera) to collab on the cocktail menu, which they've stocked with tipples packed with fresh, made-same-day mixers, like the Cynar/ maraschino/ lemon/ egg white/ Peychaud's "Blitzen Benz"; the 12yr bourbon/ G.E. Massenez Peche/ grapefruit/ Angostura "Blonde Comet"; and the mezcal/ chartreuse/ lemon/ egg white/ strawberry "Cactus Derby", which's also what it's called when Phish bassist Mike Gordon spends a day at the races.
They've also got a couple of punchbowl options, and because you can't exist on fresh, made-same-day mixers alone, in addition there're three basic sandwiches, which'll rotate, but for now include challerhocker cheese with rosemary & apricot mostarda; a chocolate/ olive oil/ sea salt number; and one with Fra'mani ham, farm butter, and black cherry jam -- overindulge, and you'll surely just find yourself home alone, dancing with yourself.