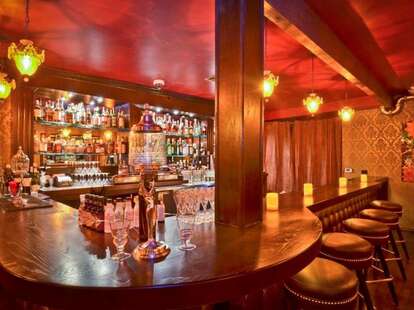 Opening tonight, Seventy 7 Lounge's an LA speakeasy in the neo-classic sense: the only marking's a glowing "Cocktails" sign, and the only way in is to tell the doorman the password, accessible every day on their Twitter, which is now finally useful for something other than following @GloriaSteinem.
The intimate interior's predictably retro, with long leather banquettes, antique-esque chandeliers, and metal-studded barstools sidled up to a lengthy wooden libation counter slangin' specialty drinks like the gin/ dill/ cucumber/ pickle juice/ creme fraiche "Peter Piper"; the absinthe/ gin/ muddled strawberries/ passion fruit/ simple syrup "Moulin Rouge"; and the "Plaid Bikini", which's got whiskey, elderflower syrup, yellow Chartreuse, grapefruit juice, and Old Time bitters, which involve your grandfather talking about the one time he was stood up at an airport in 1939 before there was a way for your grandmother to call and let him know she'd missed her flight and damnit yes he's still going to bring it up!! a taste reminiscent of cinnamon and cloves. If you're not into the hard stuff, they've also got a small wine list with five each of whites and reds, as well as a carefully curated beer selection w/ just two drafts (Lagunitas Double IPA/ Hoegaarden) and bottles including New Orlean's Abita Amber, Scotland's Belhaven Stout, and Acme Pale Ale from Fort Bragg, also what it's called when you tell your brother about the ridiculously sick base you built in the bedroom while he was at sleepaway camp.
In case you're hungry, go get some food at their sister restaurant Rocco's Tavern as they're still finalizing a small plates menu, ensuring that you don't eat too much and face a #RevolutionFromWithin.