It worked out pretty well for Dorothy and that wussy lion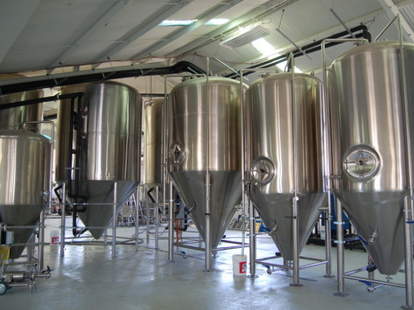 Since opening a Golden Girls Brewery would be an HR disaster, what with Blanche trying to bang everyone, the dude behind Tony's Darts Away/ Mohawk Bend & a woman whose claim to fame is being the youngest female brewery owner in the world, decided to open Golden Road instead, an airport hangar-sized ode to craft beers with plans to brew over 10000 barrels this year, or what Donkey Kong calls "any given Tuesday, 1987".
This weekend's opening mega-party costs an Andrew Jackson, but once in you get a crapload of stuff, including three 10oz pours of their first two suds: the dry, fruit-forward Point The Way IPA, and the banana- and clove-laden Golden Road Hefeweizen, as well as a sneak preview of what they've got coming up, which includes some mysterious craftsmanship involving tequila barrels snuck in from Mexico, so it's clearly the first beneficiary of the Dream Act. In case that's not enough, they've also got guest brews from peeps like Hangar 24 and Dogfish Head, as well as Ninkasi, who's sending over a not-available-in-SoCal keg. And to temper your booziness, there'll be steak-sandwich goodness from the Flat Iron Truck, and Viet bites from Mandoline Grill, also what Paul Wall wears when he wants to slice vegetables by mouth.
Their tasting room should be opening very soon, with a proper full-service pubstaurant to follow, in which you'll be able to get all of their signature brews without -- what the -- can someone please get Blanche to stop dry-humping the bags of grain?!?