Because Zero or Two Eyed Gypsies are mad creepy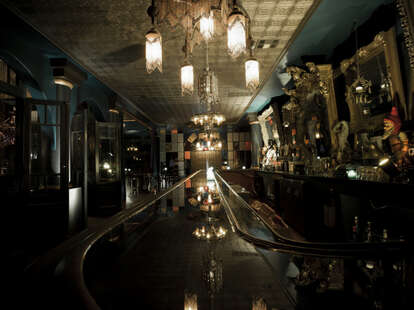 Since writing a measly three paragraphs about the new, kind of 30s-carnival-themed bar/performance venue from the woman behind Villains Tavern would be as unsatisfying as the non-director's cut ending of Snorks: The Movie, here's a full rundown of everything you ever need to know:
Though thematically similar, each room is decorated in its own style, with unique adornments like hand-drawn wallpaper featuring tiny pictures of Medusa, chandeliers made of Bedouin jewelry imported from Egypt, and a stage with a crescent-shaped Austrian curtain that, thanks to a complex European mechanism potentially made by a wizard, looks like a waterfall when it opens, so obviously it was crafted by with TLC.
Scattered around the bar're old-school games the owner's collected, including a Big-style fortune-teller, a love-o-meter, and two skee ball machines that distribute tickets redeemable for drinks & food, imported from Brooklyn, officially making him the busiest Beckham.
Because fairs traditionally have the best food, they're got the Brite Spot guy slinging an extensive fried menu (corn dogs, sweet potato tots, funnel cakes, deep-fried Chocodiles, etc.) as well as share-eats like a reuben pizza with sauerkraut, corned beef, and thousand island, also the name of a Temptation Island spinoff with a crap ton more contestants.
You can wash down those Chocodiles with drinks like a sloe gin float with cider/sweet & sour, and the vodka/red wine/blood orange/lemon & lime/bitters Riddler's Punch from a dude who's done time at Villains Tavern & 7 Grand.
There's never a cover for the entertainment, which'll include up-and-coming indie rock bands (one-off 45s will be specially pressed for the show!) to ukelele players and magicians, about whom writing three paragraphs would be three too many.