Finally open for realzies tomorrow, La Cuevita's a new, eye-boner-ing tequila bar in Highland Park (from the dudes who brought you Thirsty Crow and Oldfield's) that's been scrupulously designed to look like a drinkery from a 1930s Mexican grotto -- so don't be surprised to see El Hef-e.

Helping with the look're 100yr-old church doors, tables made of salvaged wood and marble, Dia de los Muertos-style paintings, and a massive bar atop what look like (but sadly aren't) bricks dug out of the catacombs from Last Crusade -- rats! There's obviously tequila and mezcal aplenty (70+ varietals and counting), but they'll also do tipples like the Mezcalada (w/ poblano peppers, clamato, beer & house-smoked salt), the Pinaleta (rum, mezcal, cayenne, pineapple syrup, passionfruit juice & lime), and the rye-forward Mole Manhattan, which's spiced with hellfire bitters and chocolate chili, also what T-Boz says whenever Rozonda's all "Yo, so I've got marshmallows and graham crackers, what else do we need to make these s'mores happen?"

To celebrate Cinco, they've got $2 beers and free tacos tomorrow and Saturday, plus the first 50 people to mention Thrillist also get a $2 shot of tequila, which's so cheap, it's got to be Barely Legal.
Recommended Video
Pizza Acrobatics Is a Real Sport, and You're Going to Love Watching It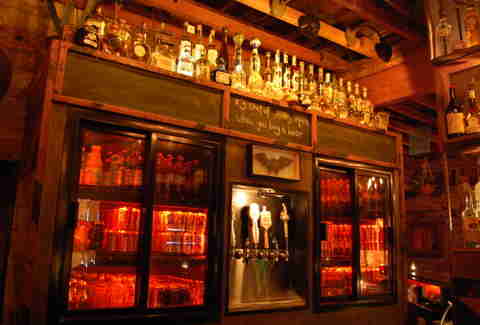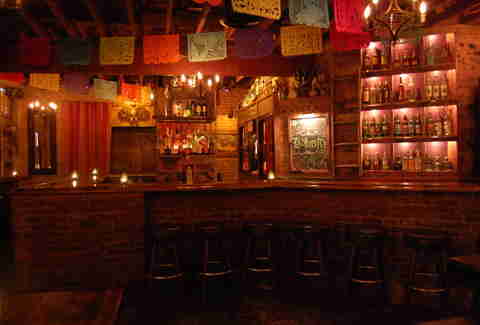 Previous Venue
Next Venue
Venue Description
1. La Cuevita
5922 N Figueroa, Los Angeles, CA 90042
La Cuevita is a tequila- and mezcal-centric grotto (cuevita means cave... also bar used to be called Little Cave) in Highland Park. It's decked out in vintage Mexican-themed trimmings, has a spacious outdoor patio, and free tacos on Tuesday nights (not a typo, there are actually free tacos). The cocktail cave will quench your thirst with classic Mexican cocktails -- Palomas, Margaritas, and the like -- and beloved agave spirits -- of which there are many -- and your sate your hunger with small Mexican bites brought in from local vendors, which vary depending on the night.