Yes, Señor Frog's closed, but apparently just to buy the Rosetta Stone for English, and be reborn down the street as Mr. Frog's. And while it's not actually related in any way, it might as well be, since Mr. is also a bar where classiness is basically off-limits and you'll likely make out with at least 3.5 people amongst brick walls, big sports-showing TVs, and neon signs, before realizing you just made out with half a person before noon when you see the sun at the beer garden out back. The menu's full of necessary bar staples including buffalo wings, the "Good Morning" Philly cheesesteak, an Angus burger topped w/ bacon, mozz & crushed potato chips, plus empanadas filled with "Mr. Frog's-style meat"... so yeah, maybe go with that Angus burger. You really don't come to this place for the food, though; you come for 10 taps (Crispin Cider, locals like Swamp Ape IPA and Orange Blossom Pilsner) plus free shots on Thursdays if you check in on Facebook and $2 PBRs along with beer pong and flip cup tourneys on "Animal House" Mondays, which shockingly doesn't have any Boone's. Things you probably shouldn't play flip cup with unless you're an absolute legend, brah: punches like Frog Juice (Bacardi Limon, Bacardi Dragonberry, strawberry puree), Dark & Stormys, caipirinhas from the "beaches of Rio De Janeiro", and the vodka/ raspberry liqueur/ melon/ peach schnapps Sex with the Bartender, which doesn't sound half bad.
Recommended Video
Potato Skin-Breaded Queso Balls Will Make All Other Apps Obsolete
Previous Venue
Next Venue
Venue Description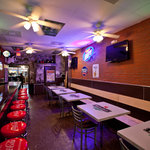 1. Mr. Frog's
3421 Main Hwy, Miami, FL 33133
Not the same as Senor Frogs, but may as well be deemed its twin for being similar-behavior-inducing. Get your outdoor drinking on at this dive bar-y establishment, which serves typical bar fare and standard libations.