A place that makes beer, where you can also drink beer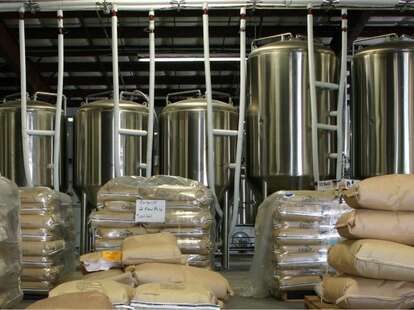 Proving that a marriage can be made stronger through alcohol: Due South Brewery, a 15000sqft facility now filling South Florida's gaping beer void with 7000 gallons a month, founded because the owner wanted to craft a brew that wouldn't trigger his wife's sulfite sensitivity. Got questions? Here are the answers
How many styles do they have?They've got styles for the whole family! As long as the whole family is 21+. That means eight to start -- from Caramel Cream Ale, to 6.1% ABV Cocoa Stout, to the extra-hoppy red IPA CAT 4 -- with two new entries a month, all using all-natural, locally sourced ingredients like hand-cut vanilla bean and freshly harvested bee honey, so you know it's the absolute Pooh.
Where can I try all eight styles in one sitting because I'm cool like that?Their on-site bar, the Taproom, which, besides being a far less stupid name for a sex room than The Red Room of Pain, also boasts funky beer art, tables surrounding the actual vats, and a separate, AC-equipped space that'll host cornhole tourneys every Sunday at 6p.
What if I have to leave early to feed my cat?Then you probably got the 50 Shades of Grey reference above, and therefore should get a dog. But in any event, grab a one-gallon growler -- it's only $6 to refill ($7 for special beers)
Does the Taproom have guest taps?Funny you should ask. Not hilarious, but funny -- and yes, there'll be 3-4 rotators from other Florida breweries
Do they give tours?You bet your sweet ass! Or your watch if you can't get any takers on the ass. Anyway: for now, just ask and they'll give you a quick run-through, free of charge, but soon they'll host VIP tours that'll work in a tasting.
I get really hungry when I drink. Do they have any food?You're welcome to bring food in, and every Friday, Lucille's Food Truck will provide stuff like New Mexico Frito pie, baby backs, pulled pork sandos, and a cheese-stuffed burger called the Jucy Lucy -- not named after the dude's wife, despite the fact that, thanks to her husband, she can now get juiced.