The most ridiculous karaoke bar ever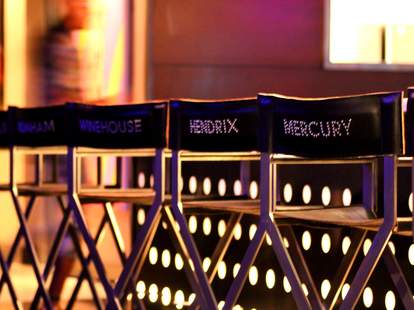 Because singing "Private Eyes" can only be so fun when nobody's watching you watching you, there's Jelsomino: a karaoke bar meets restaurant meets Broadway musical transforming Aerobar into C.C. DeVille's living room, complete with red and yellow velvet couches, funky multi-colored walls, '80s Madonna portraits, and a floating stage. Here's what you should do if you..
... Want To Sing Candlebox Sans Judgment: They've got four private, soundproof rooms that're fully equipped for a 20-person concert, and're also all cleverly named things like Amy Winehouse, Elvis Presley, Michael Jackson, and Jim Morrison, which you should hilariously refer to as "really more of a privates room... right? Right?

... Are Very Confident in Your Abilities/Want Others to Distract Everyone From Them: Do the 80-person main room, where you'll order tunes via iPad and hit the stage to sing with a group of costume-clad backup singers, who -- depending on what level "show" you choose -- will also choreograph a full "theatrical performance" that includes every staff member in the place. Take that, waiters who sing the birthday song at Friday's!

... Want to Actually Look Like Meat Loaf While Singing "I Would Do Anything For Love": Grab bacon-topped eel rolls and a seafood tower with 24 oysters, 12 langoustines, and a 3lb Maine lobster, then greatly improve your singing ability with bottle service (13 whiskeys!) and cocktails like the gin/Prosecco Champagne Supernova, a great drink to order when nobody's watching you watching you.