After serving as the official Saints HQ for Super Bowl XLIV, black & gold fans are still welcome at the football mega-center with over 40 HDs and Rockstar Rewards specials like 50-cent wings, 2-for-$7 Jager shots, $12 pitchers, and $5 SoCo shots, enough of which could have you waking up Monday morning saying "who dat?!"
Recommended Video
Make This Apple Brandy Elderflower Sparkler for Your Next Fancy Party
Previous Venue
Next Venue
Venue Description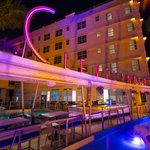 1. The Clevelander
1020 Ocean Dr, Miami Beach, FL 33139
Miami is notorious for housing debaucherous Spring Breaks, which isn't fair because a lot of places in Miami don't reflect that parties-gone-wild mentality you're picturing right now… but a lot of them do. The Clevelander is one of those places that does: it's reminiscent of everything you think of when anyone utters the words "Spring Break," mostly because it's one of the founding fathers of those ubiquitous, raging parties on South Beach. The art-deco hotel's three poolside bars serve tropical frozen drinks and plenty of American bar favorites (burgers, pizzas, salads, snacks), and the weekday happy hours and weekend brunches are the perfect excuse to see-and-be-seen on one of the busiest patios on South Beach.