Cheeseburger Baby just got a bar out back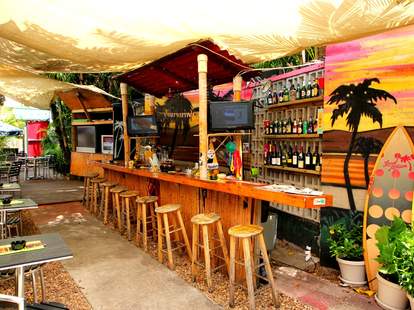 After giving birth to a food truck and having a romance with a certain celebrity who shall remain unnamed named Jay-Z, Cheeseburger Baby just had another one of its own called South Beach Tiki Bar, a canopied backyard paradise put together by South Beach Tow's Stacy London for drinking, eating burgers from inside, and watching the sport popularly known as American football.
The Look: Basically what you always wanted your own backyard to look like, minus the bouncy castle that's a scale replica of Winterfell, the front and center "hang ten"-screaming bar's surrounded by surfboards, fluorescent palm tree / sunset murals, and a hibiscus garden as well as considerably less tropical stuff like graffiti-tagged walls and a PBR street sign
The Drinks: While they're not really doing tiki in the technical sense, there are 30+ craft brews including Sierra Torpedo, 32oz jugs of Mississippi Mud, and Swamp Ape, which is kinda a Thing now. They'll also have homemade punch that changes every day plus cocktails like the Dirty Canadian (Labatt & Clamato) and the Mount Fuji, which combos sake and Mountain Dew, which should prove to be EXTREMEly popular.
The Merriment: Although a self-proclaimed Steelers bar, four big screens'll show all sorts of NFL games as you drink $2 beers. And then there's Friday's Fishbowl Fever, when a 32oz bowl of beer is just $10 and refills're $5, a price you can also score if you bring the bowl back any other Friday, likely giving birth to a lot of people hauling empty fishbowls around South Beach.