The pub emperor behind the first-ever MN-bred Irish whiskey also has a charming Irish accent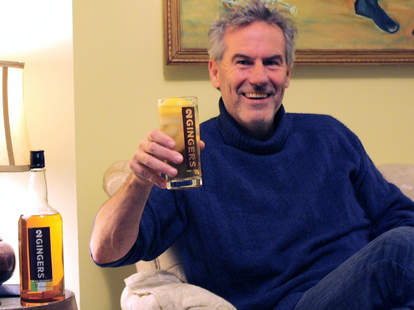 Not the first time a dude's sold his bars because he's lost himself in whiskey, 2 Gingers' Kieran Folliard, the man behind Kieran's, The Liffey, The Local, and Cooper, is now focusing exclusively on crafting the brown stuff. Aged four years at the last independent distillery in Ireland (Cooley), and previously only available at his former pubs, 2 Gingers is finally hitting liquor stores, with a 12000-bottle shipment of a limited-release "Founder's Edition", also a band headlined by Bobby Brown Stuff. Here's the story, in Kieran's words:
On how Dad's contradictory wisdom inspired his work/whiskey ethic: I remember being out in that garden as a kid. We grew everything you could possibly imagine. My father would say, "Straighten that out. If you don't want to do it right, don't do it at all." And I'd say, "Fine! I won't do it!". And he'd say, "Get back there and finish that job."...[He also] used to say "you'll be a long time dead", meaning, you know, really, do whatever the hell you want to do.
On recognizing the power of being "just this Irish guy" in a land of Scandinavians: I loved being in pubs, which doesn't really qualify you for a whole lot other than drinking and talking. I was just this Irish guy. But I was fed up with the corporate world and so I said, I'll open an Irish pub.
On selling a crap-ton of Irish whiskey: A rep for a leading brand came to us and said, "You know what, The Local is our single largest account in the Twin Cities." Which begged the question of who it was in Minnesota. "It's you guys." Which begged the question of who it was in America. "It's you guys." Which begged the question of who it was in the world. It took them 18 months to come back with that answer and they said, "It's you guys."
On deciding to have your bars sell a crap-ton of your own Irish whiskey instead: We'd spent all those years building up [that] brand, really. And we said, you know what? This is a great quality product, try it. And the pubs now, it's 95-96% of their whiskey sales.
On why one has to leave their bars behind to sell a crap-ton more whiskey in stores: It was a question of, there's an opportunity here, but then again I've been at this 17-18 years. It's a national liquor law, since Prohibition, really. It's separation of church and state. It was kinda like, wow, long time dead, honestly.
On why partner Cooley is the balls: Cooley has been European Distillery of the Year for the past three years and is the only Irish distillery that's ever been World Distillery of the Year, and in fact they're shortlisted for the fourth year in a row for European Distillery of the Year.
On really dramatic metaphors in which dice being rolled has dire implications: We don't need to take over the world with this, we just need to grow a business and have a bit of fun with it. But it is a business and this is it. The die is cast. There is no safety net. I cannot wander back to the pubs and clearly I cannot start another pub. Maybe they'll give me a job... Actually probably not, because I can't bartend, really.
On the coolest old woman ever whose likeness will also be on the whiskey label along with his mother's: My aunt Delia lived to be 94, never married, got an education. She traveled the world and used to come back with great stories. She was a ball buster. She probably never got to be 90lbs and she smoked all her life. She had a touch of emphysema when she was 89 and was put on a ventilator. The doctor came to ask her how it was working out and she said, "Doctor, I never realized how good a cigarette could taste."